Pizza Hut team!
There's nothing ordinary when it comes to Pizza Hut! Nothing ordinary about our product and nothing ordinary about our people. We believe in unleashing our teams' potential so they can become their best, have fun and make the best out of their Pizza Hut experience.
The same philosophy applies when we are treating our guests to their favourite slice of the day.
Why be part of our team?
We are always out there looking for talented people to be part of one of the biggest teams in the island. With more than 600 employees and an enthusiastic team you will be accepted for everything that you are and most importantly for all you can be!
If you want to be part of our team and live the experience then join us now!



Yiangos Yiangou
Call Centre Supervisor
"I started as a call operator combining work with university. In time, I developed many skills like communication and time management. Seeing the prospects of advancement, I sought to take on more responsibilities, which is what I think made me stand out in the customer service department."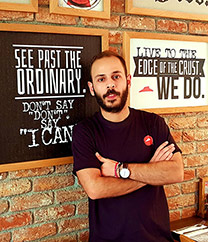 Theocharis Aivazides
Waiter
"What I like the most is that I get to meet people, socialise and in general have fun! We are all friends in between us and there is a pleasant teamwork environment."
Maria Kurtkezova
Cook
"I work in a very nice environment where the element of teamwork and respect between colleagues and managers is strongly present. At Pizza Hut we know how to work together and how to celebrate together. I am lucky to be in a team that feels like family!"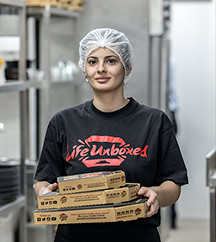 Metodi Iliev
Delivery Driver


"At my restaurant we are like family. When you work as a delivery driver you have the opportunity to get in touch with different guests and enhance your communication skills. At Pizza Hut we have a great time together at every shift."
Theocharis Lambrianides
Shift Leader
"When I started as a waiter, I never thought I would be promoted as a shift leader.
The secret of success is simply to love what you do and try to be your best every day. Its certain that Pizza Hut will help you develop many skills and knowledge and all your effort will be rewarded!"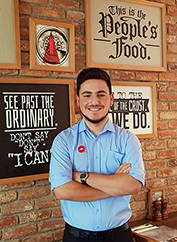 Career opportunities
Becoming part of an iconic global brand will help you unleash your potential and be appreciated for all that you are and all that you can be.
Flexible working schedule
Whether you are looking out for a part time or a full-time employment we will do our best to accommodate your needs.
University funding scheme:
Become eligible for up to 75% funding on your studies with Pizza Hut team.
Become your best!
Pizza Hut may not be your only thing but it could be the very thing that makes the rest possible. So become your best, make friends and have fun while building a career in a position you feel confident to express your self and reach your maximum potential.
ASSISTANT RESTAURANT GENERAL MANAGER
RESTAURANT GENERAL MANAGER
Promotions depend on performance of the employee and based on evaluations.